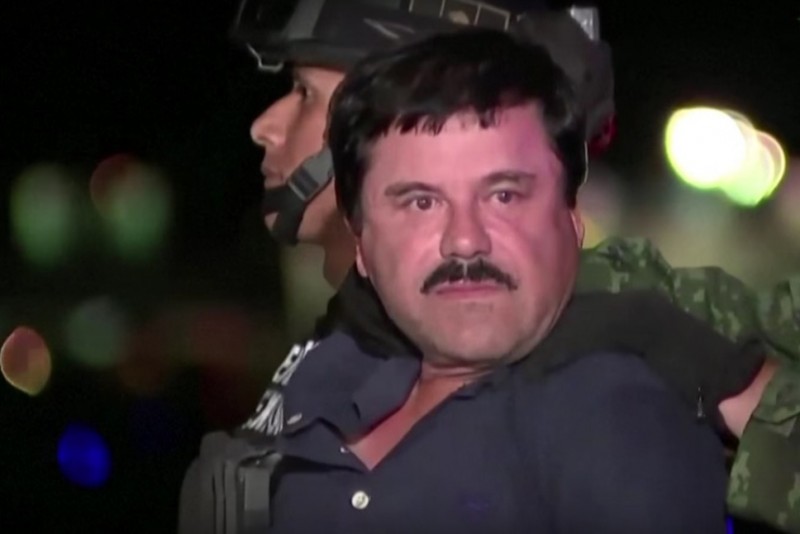 Joaquín "El Chapo" Guzmán following his capture on Friday (Image:
YouTube
, screenshot)
Mexico Will Seek to Extradite "El Chapo" After Drug Lord's Recapture
January 11, 2016
By Staff
Mexico's Attorney General's Office announced on Sunday that it has launched extradition proceedings against recaptured drug kingpin Joaquín "El Chapo" Guzmán, but the Sinaloa Cartel leader is sure to battle his transfer to the United States, where he is far less likely to escape from prison for a third time.
Agents from Interpol formally notified Guzmán on Sunday of two U.S. arrest warrants against him.
Officials warned that the extradition process could take months, the New York Times reported. Guzmán's defense team has already filed six motions challenging the request, according to his attorney Juan Pablo Badillo.
Guzmán was recaptured on Friday during a raid in his home state of Sinaloa, six months after his escape from a maximum-security prison — his second in 14 years — dealt a blow to the administration of Mexican President Enrique Peña Nieto.
Mexico resisted several calls for extradition made by the United States prior to Guzmán's prison escape in July. One year ago, in January 2015, then-Attorney General Jesús Murillo Karam openly mocked the possibility of Guzmán serving time in a U.S. prison.
"El Chapo must stay here to complete his sentence, and then I will extradite him," Murillo said. "So about 300 or 400 years later — it will be a while."
However, Mexican authorities have softened their attitudes toward extradition in recent months, in part due to criticism faced over Guzmán's escape. In September, Mexico extradited 13 people to the United States, a move described by The Associated Press as a new bilateral effort to fight organized crime.
Guzmán's attempt to spearhead the production of a movie about his life offered a substantial lead as to his whereabouts, the attorney general said during a Friday press conference. On Saturday, Rolling Stone published a lengthy article by Hollywood actor Sean Penn about a secret meeting with Guzmán in October brokered by Mexican actress Kate del Castillo. Penn's article has come under criticism for its florid prose and for Rolling Stone's decision to give Guzmán editorial control over the published piece.
Headlines from the Western Hemisphere
North America
Caribbean
Central America
Andes
Southern Cone