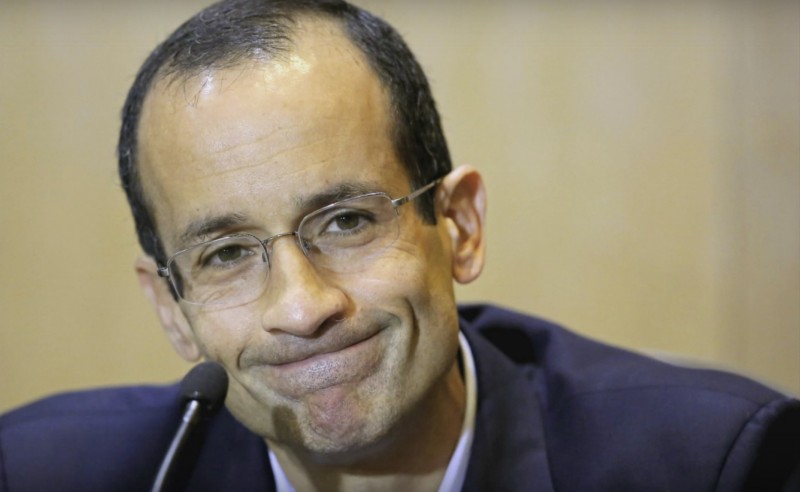 Marcelo Odebrecht, former chief of Odebrecht, Latin America's largest construction firm and an alleged participant in the Petrobras graft scheme. (Image:
Youtube
)
Former Chief of Top Brazilian Construction Firm Sentenced to 19 Years in Corruption Case
March 9, 2016
By Staff
Top Story — A federal judge in Brazil sentenced the ex-president of Latin America's largest construction company, Odebrecht, to 19 years and four months in prison on Tuesday for his role in the ongoing corruption scandal surrounding the state-run oil company Petrobras.
Marcelo Odebrecht was arrested last year along with directors from other construction companies being investigated for their possible involvement in the case, but is so far the most prominent executive to be convicted, in a scheme that allegedly involved payment of more than $2 billion in bribes in exchange for Petrobras contracts.
The scandal has engulfed many of Brazil's most wealthy and powerful. On Friday, former President Luiz Inácio Lula da Silva was taken in for questioning by police. His home was raided by authorities in search of evidence for his alleged connection to the scheme, which he denies.
Odebrecht's lawyer, Nabor Bulhoes, insists on his client's innocence and said that "none of the documents produced so far links Marcelo Odebrecht to any illicit act being investigated," and that he will appeal his client's conviction. Although his sentence was handed down on Tuesday, he has been in prison since June and resigned from his position in December.
Per Brazil's constitution, Odebrecht will remain incarcerated in a special cell outside of the general prison population, because he is a university graduate.
Headlines from the Western Hemisphere
North America
Caribbean
Central America
Andes
Southern Cone