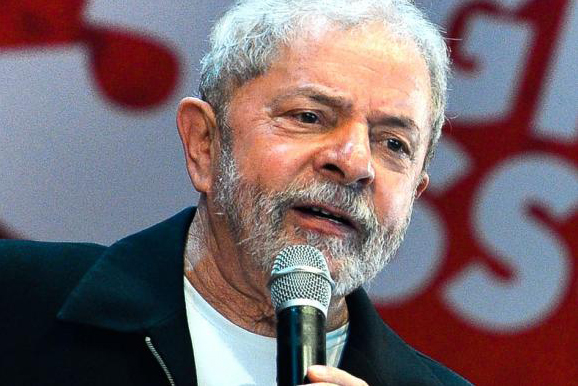 Former Brazilian President Luiz Inácio Lula da Silva (Image:
Antonio Cruz
/Agência Brasil)
Former Brazilian President Silva Charged by São Paulo Prosecutors
March 10, 2016
By Staff
Top Story — Former Brazilian President Luiz Inácio Lula da Silva was indicted on Wednesday for grand larceny and money laundering, among other crimes, over his alleged relationship with a construction firm that saw him trade government contracts for personal favors.
The firm, OAS, has been implicated in the corruption scheme unfolding at state oil giant Petrobras. The charges against Silva place additional pressure on the once-mightily popular leader, less than one week after he was detained for questioning by federal police over his role in the Petrobras scheme, and four days ahead of nationwide anti-Workers' Party demonstrations scheduled for this Sunday.
A judge will still need to accept the charges filed on Wednesday, however, before Silva officially becomes a defendant in the sweeping federal probe.
The charges against Silva stem from renovations made to a weekend home in the Brazilian countryside and a beachfront triplex apartment in the popular resort town of Guarujá. Prosecutors contend that Silva secretly co-owns both properties, and that renovations were made to them in exchange for political favors (link in Portuguese). The beachfront property is listed under construction firm OAS.
The former president has denied the accusations, saying that he had only ever been to the apartment on two occasions, and that the country house is owned by friends who have let him stay there in the past. An expert consulted by The Associated Press said that no documentation has yet been found linking the beachfront property to Silva, but that the probe into the country house may turn up evidence of money laundering.
Silva left office in 2010 with record-high approval ratings. But the revelations of an expansive graft scheme at Petrobras, as well as a deepening economic recession, has led to a plunge in his once-unmatched popularity. His Workers' Party successor, current President Dilma Rousseff, is experiencing historically low approval ratings and faces calls for her impeachment.
Headlines from the Western Hemisphere
North America
Caribbean
Central America
Andes
Southern Cone
Subscribe to Today in Latin America by Email