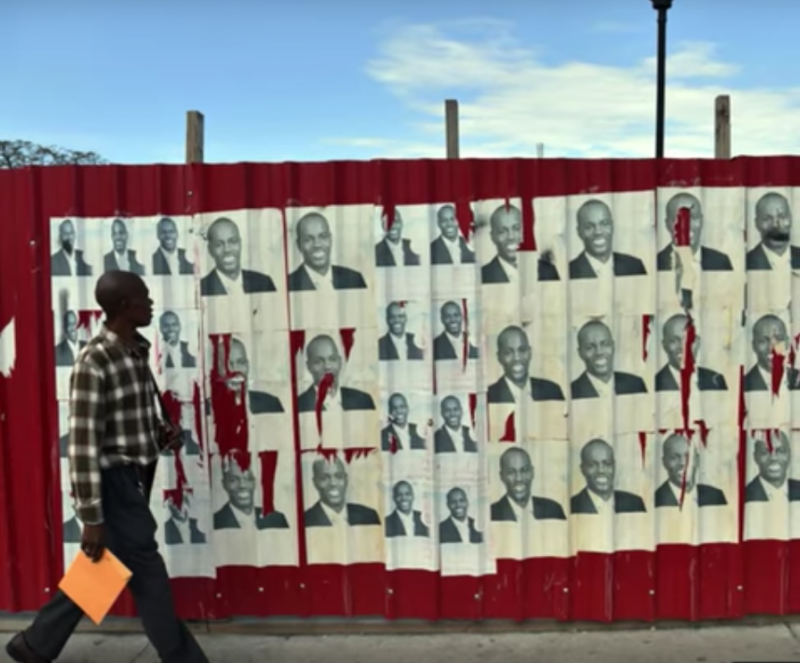 Campaign posters in Haiti. (Image:
Youtube
, screenshot)
U.S. Sends Diplomat to 'Assess' Haiti's Troubled Election
April 29, 2016
By Staff
Top Story — The U.S. State Department's coordinator for Haiti, Kenneth Merten, arrived in Port-au-Prince Thursday "to assess progress" in the country's troubled presidential election, a phrasing meant to avoid the perception of meddling in Haiti's affairs, The Associated Press reported.
Merten's talks with Haitian officials, lawmakers and international partners focused on how to execute successful run-off presidential elections and conclude the electoral cycle that began last October.
A run-off scheduled for April 24 was delayed for the third time, after which thousands of Haitians protested in the capital, demanding the opportunity to cast their votes. More demonstrators gathered Thursday and rival political factions clashed outside of Parliament while Merten held meetings, before being dispersed by riot police with rubber bullets.
Haiti's interim President Jocelerme Privert said the run-off election may not happen until October. He was meant to hand power over to an elected leader on May 14, but said that the transition will not be possible until Haitians have confidence in their electoral system.
Before his trip Merten had told the Associated Press Haiti's verification process needs to be clarified because of lingering concern that political actors could try to "manipulate the process."
Privert has independently moved forward and selected a five-person commission to evaluate last year's election ballots. The verification panel has 30 days to conclude its work.
Merten's trip comes after U.S. Secretary of State John Kerry warned Haiti to expedite their electoral process or risk losing international support. Speaking in Miami, Kerry said, "there's a clear limit to the patience, the willingness of the international community to condone this process of delay."
The United States has remained firmly opposed to an electoral recount of last year's contested elections, even amid fraud allegations. Haiti's opposition, human rights groups, and Haitian-American leaders have spoken out against the U.S. government's hardline stance, the Miami Herald reported.
Haiti's last elected president, Michel Martelly, enjoyed U.S. support, reported Jon Lee Anderson in The New Yorker. In Haiti's last election, after a recount ensured Martelly would pass to a second round a result disputed by his opponent Jude Célistin, then-Secretary of State Hillary Clinton flew to Haiti in 2011 in an apparent show of support for Martelly.
Martelly's protege, Jovenel Moïse, won the most votes in first-round polling in January; Célestin, his main rival, insists the first-round results in October were fraudulent and has promised to boycott the runoff.
The United States has a history of heavy-handed influence in Haiti. U.S. troops invaded in 1994, and U.S. policy was blamed for contributing to a coup in 2004.
Headlines from the Western Hemisphere
North America
Caribbean
Central America
Andes
Southern Cone