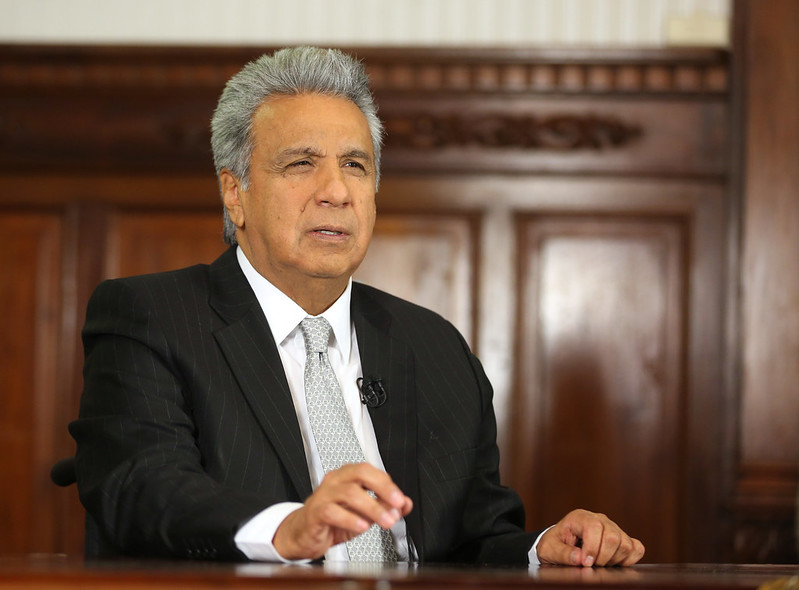 Ecuadorian President Lenín Moreno in 2019. (Photo courtesy of the President's office via Flickr)
Ecuador to Begin Reopening in September
August 27, 2020
By Staff
TODAY IN LATIN AMERICA
ECUADOR: Government officials announced yesterday that Ecuador will not renew its coronavirus state of exception, which has been in place since March. In September, Ecuadorians will no longer have to follow a curfew and can participate in social gatherings. Officials are urging them to continue being socially responsible to avoid another rise in COVID-19 infections. 
Police will monitor nightclubs and bars closely to ensure that social distance protocols are being followed. Public events in stadiums and other venues will require specific permits issued by local officials and police, but mass gatherings will be discouraged.
Ecuador has been one of the hardest hit countries since the beginning of the pandemic. In March and April, hundreds of families reported loved ones dying in their homes and being left on the streets. Doctors say the strict use of face masks, social distancing, and hand-washing helped to flatten the curve in larger cities. Ecuador currently has 101,593 confirmed coronavirus cases and 6,410 deaths.
Headlines from the western hemisphere
SOUTHERN CONE
ARGENTINA: Argentina hit a record-breaking number of more than 10,500 daily coronavirus infections yesterday. A total of 276 coronavirus-related deaths were also recorded. The increase in daily cases is attributed to a recent spike in infection in the capital Buenos Aires. More than 24,000 tests conducted on Tuesday are currently being processed.
BRAZIL: New data from the Ministry of Health indicates that more than 99% of Brazil's municipalities have been affected by coronavirus, and deaths have occurred in more than 72% of Brazil's cities. Cases have also been spreading in rural areas consistently for the past three weeks. Brazil has the highest number of cases in the world after the United States, with 3,717,156 cases and 117,665 deaths.
PARAGUAY: The Ministry of Justice announced that coronavirus tests will no longer be conducted at the Tacumbú prison despite the large number of cases. Any inmate with a respiratory disease will be considered positive for the virus. Officials said there is a lack of testing materials, such as swabs. A total of 360 tests have been conducted at the prison as of yesterday, and 256 have come back positive. Government officials said that those who tested positive are receiving treatment. Visits to the prison will continue to be suspended.
ANDES
VENEZUELA: A total of 162 attacks on media workers have been recorded in the past six months, according to a report from the Presidential Commission for Human Rights and Victim Services. Eighty-five attacks were reported after President Nicolás Maduro announced a state of alarm and lockdown measures in March. The commission believes that the number of attacks is likely much higher and that they go unreported due to fear. The attacks include unexplained disappearances, illegal detainment, and intimidation by the government.
CARIBBEAN
DOMINICAN REPUBLIC: Health officials said the country's system of hospitals is in a very "delicate" condition. Limited budgets, a lack of medical supplies, and problems with infrastructure have left many hospitals vulnerable to collapsing, both internally and physically. More than 178 hospitals are affected by these conditions, many of which are struggling to combat the spread of COVID-19. Several locations have reported a lack of available medical personnel and oxygen tanks to aid coronavirus patients. The previous government reportedly remodeled 56 new hospitals to help with these issues, but many have yet to begin operating.
CENTRAL AMERICA
EL SALVADOR: Human rights officials are urging El Salvador to sign and ratify the landmark 2018 Escazú Agreement, a regional environmental treaty. The law guarantees environmental justice and greater access to public information regarding environmental matters. El Salvador has until September 26 to sign it. The Bukele administration has so far been silent on whether it will sign the accord.
NORTH AMERICA
MEXICO: A number of oil and gas rigs have shut down in anticipation of Hurricane Laura, which made landfall this morning near the Texas and Louisiana border. The rigs in the Gulf of Mexico are located directly in the pathway of the storm. More than 300 oil and gas rigs have been evacuated since yesterday, with many at high risk of being damaged. The sale of gasoline in the region is expected to be disrupted and shortages may occur as Hurricane Laura is predicted to cause historical and catastrophic damage.

August 26, 2020
> Staff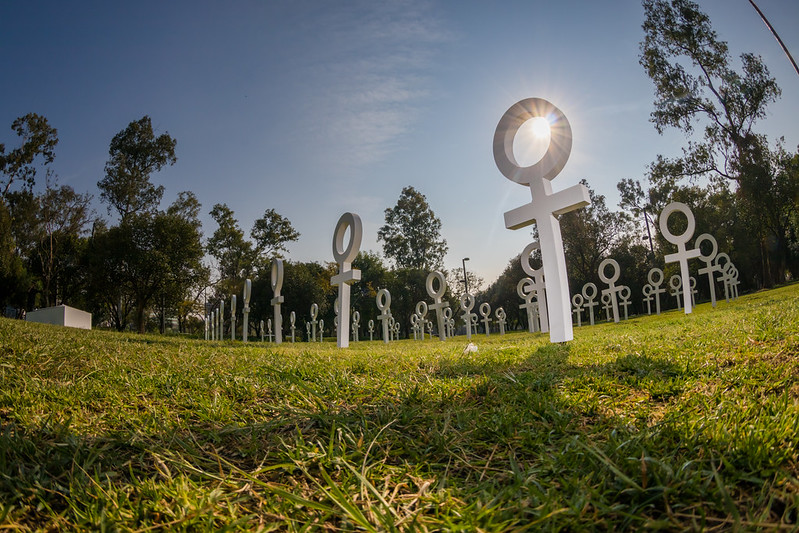 August 28, 2020
> Staff