Mexican President Felipe Calderón hosted the Rio Group meeting in Cancún
Mexican Drug War Intensifies With 27 Dead After Shootout
September 3, 2010
By Staff
Today in Latin America
Top Story — Mexico's bloody drug war continued as the Mexican army claims to have killed 27 suspected drug cartel members in a shootout in the state of Tamaulipas.
The shootout took place after a military patrol approached a suspected training camp that had been spotted during an aerial search.
Authorities rescued three people believed to be kidnap victims after the shootout and recovered 25 rifles, four grenades, 4,200 rounds of ammunition and 23 vehicles.
The Tamaulipas state has seen a surge of violence recently after the Zetas began a gruesome campaign on their old employer, the Gulf cartel. Last month Mexican marines found the bodies of 72 Central and South American migrants believed to have been killed after refusing to transport drugs for the Zetas.
Mexican President Felipe Calderón, who earlier this week praised the efforts of the country's authorities in combatting the drug cartels, said Thursday that drug violence is "the central threat" to the country.
"As we all know, we face unscrupulous criminals with enormous economic capacity and great firepower," Calderón said, according to the Washington Post. "I am fully aware that in the past year the problem of violence has risen."
Just Published at the Latin America News Dispatch
Headlines from the Western Hemisphere
North America
Caribbean
Central America
Andes
Southern Cone
Image:
Subscribe to Today in Latin America by Email

September 2, 2010
> Staff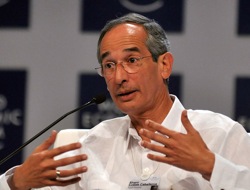 September 6, 2010
> Staff