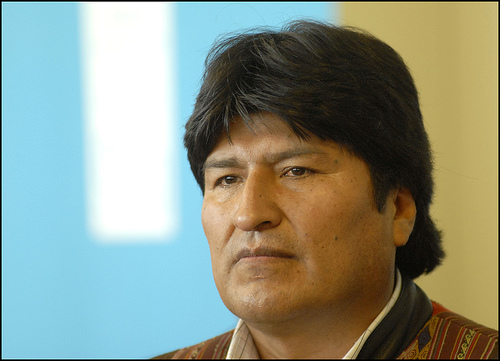 Bolivian President Evo Morales.
Bolivia Arrests Journalist For Selling Video Critical Of Evo Morales
Bolivian authorities detained a journalist yesterday for allegedly selling a documentary that disrespected President Evo Morales.
Richard Romero Cossío, a journalist from the city of Santa Cruz who was selling a documentary entitled "Union Dictatorship", was arrested in the Bolivian capital of La Paz. The documentary is alleged to be critical of unionized coca workers in the country's central province of Chapare, where Morales began his political career.
He was also alleged to have shown "disrespect" to Morales in the documentary.
A representative for the Association of La Paz Journalists (APLP) denounced the arrest, but added that a serious investigation was needed to determine if the work was produced in the proper ethical framework.
"We are not nor will will ever agree that it offends of defames any person," Vargas said in Bolivia's Los Tiempos newspaper.
In an editorial run by Bolivia's Eju!, journalist Emilio Martínez  criticized the arrest and said that the video contained only statements and testimonies by people living in the region. Nothing in the film mentions any claims made by Romero that could lead to charges of "disrespect,"  Martínez added.
"The journalist's arrest is symptomatic of the eclipse of press freedom in Santa Cruz and the increasingly anti-democratic climate that exists in the country," Martínez said. "It is also key to note that the case demonstrates the extreme sensitivity of the system in regard to all the Chapare coca-growing stronghold, the source of the power of the ruling party and main beneficiary of state action."
Press freedom and journalists have been under attack recently in Bolivia. In April, five journalists were physically assaulted by police while covering clashes between police and members of the Bolivian Workers Federation .
Photo: Alain Bachellier @ Flickr.