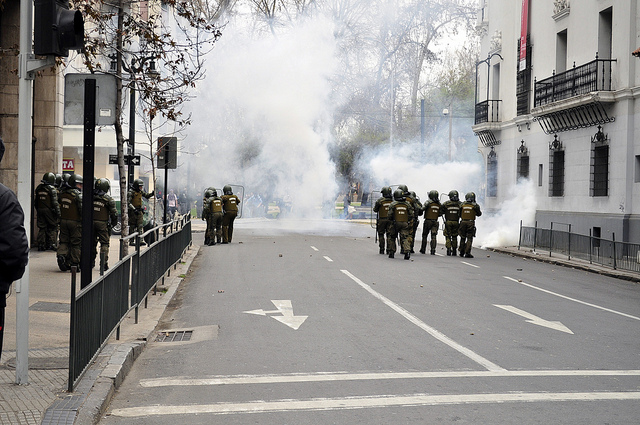 Chilean Student Protests: Police Arrest 552
At least 552 people were detained and 29 police injured during student protests in Chile Thursday, where the Sebastián Piñera administration continues to butt heads with students and professors over education reform.
Protesters marched in the afternoon toward the Plaza de Italia in central Santiago, where the government said it would not allow protests to take place. The protesters continued regardless, and federal police began detaining them and used water hoses and tear gas to disperse them. Some protesters lit fires and threw rocks and other objects at police.
Around 8pm, students launched a second protest, in which they banged on pots and pans outside. In several places they were joined by sympathizers who did not belong to the student movement. The incidents took place in several parts of the capital, as well as other cities.
In another incident, a group of about 200 students occupied the offices of Chilevisión and refused to leave until the company recorded a message that the students demanded be aired on TV. The broadcaster agreed to film the message and the students left without incident, though it was not clear at the time of writing if the message ever made it on screen. The episode gained immediate notoriety, however, as participants posted comments and images like the one below to Twitter.
[blackbirdpie url="http://twitter.com/#!/Karol__Dance/status/99259501810696194″]
The president of the Chilean Student Federation (FECh, in Spanish) criticized the government for prohibiting the protest march and for responding with "violence" and "repression."
University and high school students have held repeated protests and taken over hundreds of schools since May, as part of a movement to push for federal control of the public system, increased investment in the public university system and a series of other demands.
Piñera tried twice to address student demands. On July 5, he offered $4 billion of state investment called GANA for scholarships and to ease the burden of student loans. Encountering resistance from student groups, he followed GANA up with a more detailed proposal on Aug. 1 that took steps toward meeting student demands, including guaranteeing education as a right of the citizenry and transferring control of the public school system from municipalities to the federal government.
But student groups rejected the second proposal as well, saying the proposal did not address their demands to eliminate the profit motive from schools and to guarantee access to free education. Spanish speakers can view a comparison of student demands and government offers for reform at Chilean daily El Mercurio.
Piñera said on Wednesday he would not to authorize further protests on the capital's main avenue, the Alameda, saying that the protests and occupations should give way to dialog.
"The time for marches has ended," Chile's Interior Minister Rodrigo Hinzpeter said Wednesday. According to Hinzpeter, 270,000 students are currently on strike and have lost some 230 hours of class.
[blackbirdpie url='http://twitter.com/#!/rhinzpeter/status/98804298514841600′]
The student protests have sent Piñera's popularity tumbling. A poll released by CEP on Thursday found that Piñera's approval rating had dropped to 26 percent — the lowest of any president since Chile returned to democracy in 1990. The pollster cited the Piñera government's inability to resolve the standoff with protesting students as the primary reason behind the drop, though he has also faced labor unrest from copper miners and protests over the pace of reconstruction from last year's earthquake.
View one of Thursday's "cacerolazos," as the banging of pots and pans in protest are known in South America, in the video below. 
Image: FabsY_ @ Flickr.