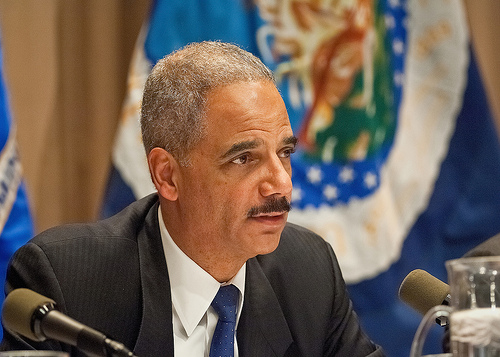 U.S. Attorney General Eric Holder.
U.S. Slaps Sanctions On Mexico's Zetas And Other Crime Groups
The United States unveiled Monday strict, new sanctions aimed at combating international organized crime groups, including Mexico's violent Zetas drug cartel.
U.S. President Barack Obama signed an executive order that outlines 56 priority actions that hopes to quash organized crime groups operating throughout the world, including the freezing of all property belonging to groups designated as transnational criminal organizations and barring American citizens from engaging in any business with them.
"Today's criminal organizations are increasingly sophisticated.  They know no borders.  They threaten the stability of our financial system, and the promise of a competitive marketplace," said U.S. Attorney General Eric Holder on the White House website. "For these reasons, in recent years, the Justice Department has strengthened our fight against transnational organized crime – and expanded our successful counter-narcotics work. "
The Obama administration also said that it would work with Congress in developing legislative proposals to aid authorities in investigating and prosecuting major transnational criminal networks.
"Criminal networks are not only expanding their operations, but they are also diversifying their activities, resulting in a convergence of transnational threats that has evolved to become more complex, volatile, and destabilizing," Obama said. "These networks also threaten U.S. interests by forging alliances with corrupt elements of national governments and using the power and influence of those elements to further their criminal activities. In some cases, national governments exploit these relationships to further their interests to the detriment of the United States."
The Zetas have become one of the main actors in Mexico's bloody drug war that intensified when President Felipe Calderón declared an offensive on the cartels only days after taking office in 2006. The group, made up in part of former Mexican Special Forces soldiers, was once the paramilitary wing of the Gulf Cartel, but they broke away from their former bosses and are now engaged in a turf war for lucrative drug shipment routes to the U.S.
The group is also responsible for murders in Mexico and Guatemala, including the killing an Immigrations and Customs Enforcement (ICE) special agent earlier this year.
Besides the Zetas, the Japanese Yakuza, the Camorra from Naples and The Brothers' Circle, based primarily in the former Soviet Union, were named as targets in the U.S's new initiative.
To read the entire strategy, follow this link.
Photo:USDAGov @ Flickr.