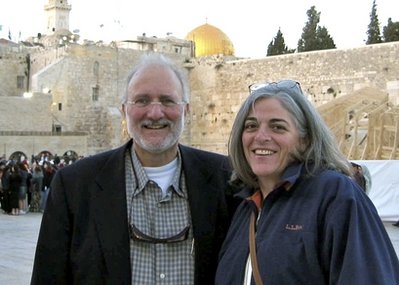 U.S. contractor Alan Gross and his wife Judy in a family picture taken in 2005.
Cuba Upholds Alan Gross Conviction
Cuba's Supreme Popular Tribunal upheld a conviction against U.S. contractor Alan Gross, according to a report from the island's state media published Friday morning.
The Castro government accused Gross of illegally distributing satellite equipment into Cuba through a U.S. government-sponsored program designed to foment a transition to democracy on the island. Gross was arrested in 2009, and a Cuban court convicted him of attempting to subvert Cuba's independence and sentenced him to 15 years in prison in March of this year.
Gross, 62, appealed the decision, saying he did not travel to Cuba with the intention of destabilizing the government, but rather improving internet connectivity for the island's small Jewish community.
"Alan reiterated that he never had any intention of hurting the Cuban government or its people, and that he has always believed — and still does so today — in the sovereignty of the Cuban nation and its people," his lawyer Peter Kahn said in a statement released after his July 22 appeal hearing.
Gross traveled to Cuba on a tourist visa carrying BGAN satellite communications equipment that he planned to use to establish wifi hotspots to service the Jewish community. As a contractor for USAID, however, he fell afoul of Cuban law, which prohibits U.S.-funded democracy programs because the Castro government views them as interventionist.
Philip Peters of the Lexington Institute faulted the USAID program as ill conceived in an opinion piece for The Miami Herald, writing that the internet connections "may be the most expensive in history. For the cost of his contract, overhead and satellite airtime, one could easily have provided $1,000 to every Jewish household in Cuba to use as they wish."
Gross' arrest cast a cloud of uncertainty over USAID democracy promotion programs for Cuba. Senator John Kerry (D-MA) froze $20 million in annual funding for the programs on April 1, pending a review by the State Department. He was joined by Senator Patrick Leahy (D-VT), but by Aug. 2 both of them had dropped their objections.
Cuban-American Congress members, on the other hand, remained committed before and after the Gross case to using government resources to push for regime change in Cuba.
During a February hearing on U.S.-Latin American affairs, Cuban-American Senator Marco Rubio (R-FL) grilled then-Assistant Secretary of State for the Western Hemisphere Arturo Valenzuela on the Gross case, pressing Valenzuela to issue a travel warning for Cuba, even as the Obama administration loosened Cuba travel restrictions for U.S. citizens.
"Are we going to issue an advisory to Americans that are looking at doing purposeful travel to make contact with people in Cuba that they may also face 20 years, if their contact is too purposeful?" Rubio asked. (At the time, the Gross sentence had yet to be declared and he faced the possibility of a maximum sentence of 20 years.)
The Gross case also cooled a process of warming of U.S.-Cuban relations that has taken place under Obama. Since being elected, Obama has ended travel restrictions for Cuban Americans, loosened travel restrictions for U.S. citizens of non-Cuban origin and upped the amount of remittances that Americans can send to the island.
Obama's policy changes came as the Castro government released the remaining prisoners from a 2003 roundup of 75 dissidents accused of taking support from the Bush administration. The release process marked something a resolution to a long fight between the Cuban government and its dissident community, but human rights organizations criticized the Castro government for imposing exile as a condition of release for most of the prisoners.
"It is a step in the right direction for human rights in Cuba to see the release of all prisoners of conscience from the March 2003 crackdown and another detained last December, particularly considering they should never have been imprisoned in the first place," said Gerardo Ducos of Amnesty International in a March 23 press release. "What we want to see now is for the Cuban authorities not to force activists into exile as a condition for their release and to ensure all human rights activists are able to carry out their legitimate work."
Gross' arrest and conviction, however, make it politically difficult for Obama to proceed with further policy shifts.