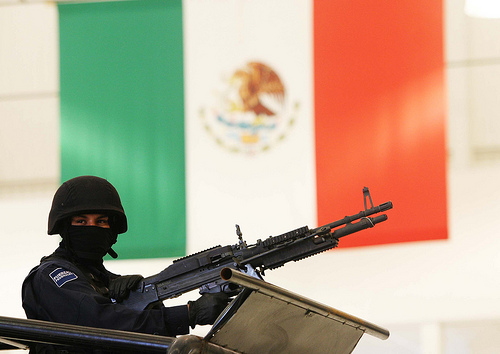 A Mexcian soldier during a presentation.
Wife Of Mexican Drug Lord "El Chapo" Guzmán Gives Birth In U.S.
The wife of the leader of the Sinaloa Cartel and Mexico's most wanted man gave birth to twin girls at a hospital in northern Los Angeles County last month, according to newspaper reports.
Emma Coronel, the 22-year old wife of Joaquín "El Chapo" Guzmán and a former beauty queen, crossed into the U.S. in mid-July and gave birth to her daughters on Aug. 15 at Antelope Valley Hospital in Lancaster, California. Birth certificates listed Coronel, who holds U.S. citizenship, as the mother but the spaces for the father's name are blank, The Los Angeles Times reported.
Law enforcement officials said that they had tracked her movements even before she went to the hospital in Lancaster, but were unable to arrest her because she has no charges against her. Coronel returned to Mexico soon after her daughters were born.
Guzmán married Coronel on her 18th birthday during an elaborate wedding in the highlands of central Mexico in 2007. She is alleged to be his third or fourth wife and is the niece of Ignacio "Nacho" Coronel, Guzmán's one-time affiliate who died in a July 2010 shootout with Mexican police.
The two met during a beauty contest to choose the queen of the coffee and guayaba festival of Canelas in the Mexican state of Durango. Guzmán is suspected to have made his intentions known and Coronel was crowned queen of the pageant.
Guzmán has attained billions of dollars in profits from running the Sinaloa Cartel and is the most wanted man in both the United States and Mexico. U.S. authorities have placed a $5 million bounty on Guzmán's head, alleging that he controls the bulk of cocaine and marijuana trafficking into the U.S. from Mexico and Colombia.
He was apprehended by authorities in 1993 but escaped from prison after bribing guards to hide him in a laundry basket and has been on the run ever since. One reason Mexican authorities have had trouble apprehending him is that Guzmán hides in isolated, mountainous regions and surrounds himself with a band of well-armed guards.
Recently it is believed that the Sinaloa Cartel has made advances into the northeastern border state of Tamaulipas as well as the Caribbean coastal state of Veracruz, which is controlled by the Zetas Cartel. An upsurge in violence in Veracruz can be blamed on a battle between the two cartels.
Last week, uniformed gunmen dumped 35 bodies beneath an overpass in the port city of Veracruz. While officials in Mexico have not made clear who was behind the attack, a banner left at the scene threatened the Zetas and bore the initials "G.N."
The two letters appear to be a reference to a group aligned with Guzmán and the Sinaloa Cartel.
Photo: Jesús Villaseca Pérez @ Flickr.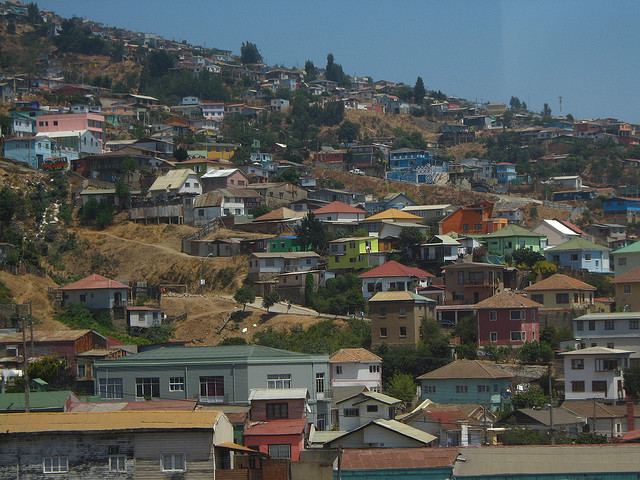 September 27, 2011
> Staff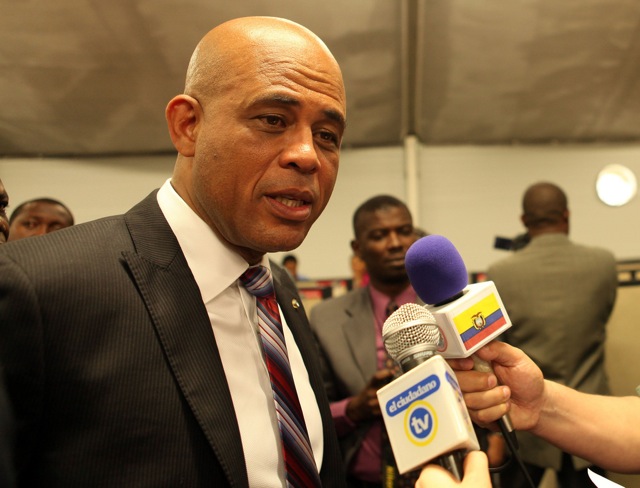 September 28, 2011
> Staff