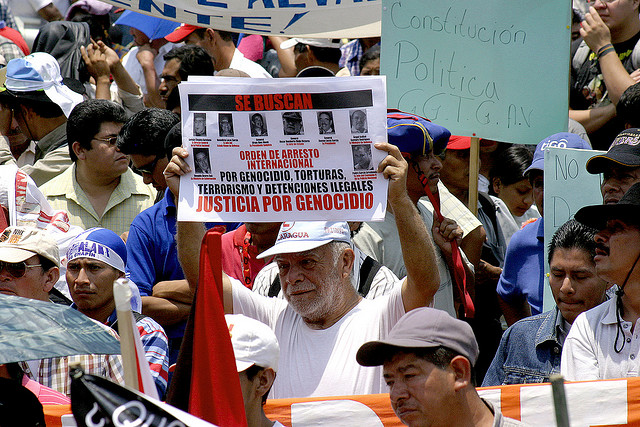 Guatemala: Former President Mejía Declared Fugitive For Genocide
October 14, 2011
By Staff
Today in Latin America
Top Story — Former Guatemalan President Óscar Mejía was declared a fugitive on Thursday by authorities who ordered his arrest to face charges of genocide during the country's 36-year civil war. The 80-year old Mejía, who led a coup against former dictator Efraín Ríos Montt and served as president from 1983 to early 1986, is wanted for ordering massacres in the Ixil, Quiché indigenous region when he served as chief of the military from 1982 to 1983. Guatemalan police raided four homes in the capital of Guatemala City on Wednesday, but were unable to find Mejía. The 1960-1996 civil war between military forces and left-wing guerrillas left a nearly a quarter million people dead or missing. A United Nations-backed truth commission found that Guatemala's military committed hundreds of massacres during the civil war. The hunt for Mejía comes as Guatemala prepares for its run-off presidential election in November, where former General Otto Pérez Molina leads the race. The prospect of a former military leader taking command of the country has some Guatemalans uneasy and a poll released Wednesday showed the contest is tightening.
Headlines from the Western Hemisphere
North America
Caribbean
Central America
Andes
Southern Cone
Image: Surizar @ Flickr.