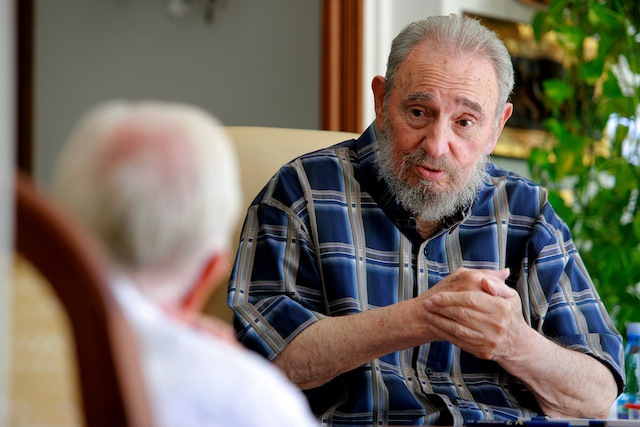 Fidel Castro Is Dead, Says Unfounded And Likely False Twitter Rumor
January 3, 2012
By Staff
Former Cuban dictator Fidel Castro has passed away, according to an unverified rumor that spread like a forest fire through the social media site Twitter Monday evening.
The rumor is almost certainly unfounded.
Several of the tweets that seem to have instigated the rumor cited a publication called "Cuba Press" as the source of the unconfirmed report.
If such a publication exists, it doesn't care to publish to the Web. Internet searches turned up nothing.
Spanish newspaper 20 Minutos interpreted Cuba Press as a reference to "The Cuba Free Press Project." But Cuba Free Press Project's director Juan Granado insisted that his site is not called Cuba Press and never published any story about Fidel Castro's supposed death.
"We have not written such a note. We don't have any news on the subject," Granado said in a telephone interview.
Cuba Press and #CubaPressFacts became trending topics in Spain and, by the early hours of Tuesday morning, the butt of jokes.
"Cuba Press confirms that I am dead tired," wrote @pablomita.
[blackbirdpie url="https://twitter.com/#!/pablomita/status/154109842074779648″]
Cuban state media, which has delved into digital publication and distribution through Facebook and Twitter in recent years, remained silent on the subject.
Journalists who commented on the rumor expressed skepticism.
Joaquín López-Dóriga of Noticieros Televisa tried to confirm the rumor and concluded the storm of speculation was based on false reports.
"They ask me about the death of Fidel Castro and I respond: It didn't happen. I don't have any confirmation. No serious media confirm it," he tweeted
[blackbirdpie url="https://twitter.com/lopezdoriga1/status/153991155523125248″]
Journalist Tracey Eaton, who specializes in covering Cuba, got in touch with an unnamed Cuban official who declined to comment, but seemed dismissive. "Twitter lends itself to that. We don't have anything to say," the source told Eaton.
Damien Cave of The New York Times wrote:
[blackbirdpie url="https://twitter.com/#!/damiencave/status/154030037295828992″]
While it remains unclear who started the rumor or why, Internet security firms Websense and Naked Security say it may be a ploy to spread a computer virus, according to Mexican news portal Sin Embargo.
The security firms say that those behind such a scheme spread fake news through email that contains a virus.
A similar rumor of Castro's death that surfaced on Twitter in August originated as an email containing malware, according to The Miami Herald.
Whether or not the virus theory holds true, many of the tweets appearing under hashtags and searches related to Fidel Castro and Cuba Press contain spam that links to pornography — so click with caution.
False rumors of Fidel Castro's death have spread periodically since he fell ill in 2006 and his brother Raúl became acting head of state.
This time around, the rumor coincided with two important anniversaries for Fidel Castro. His movement succeeded in overthrowing Fulgencio Batista on Jan. 1, 1959 and on Jan 2, 1961, the Roman Catholic Church excommunicated Castro for embracing communism.
January 9, 2012
> Staff