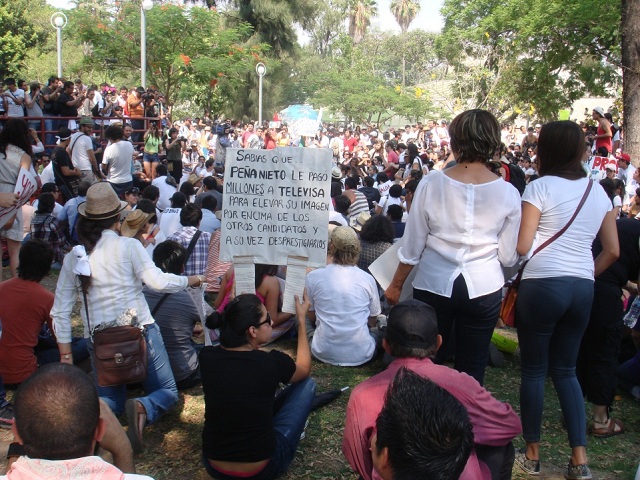 Mexico: "Yo Soy 132" Movement Seeks To Influence Presidential Elections
MEXICO CITY — On his May 11 visit to the Ibero-American University in Mexico City, Mexican presidential hopeful Enrique Peña Nieto was received by a crowd of students holding signs and booing. The event was not greatly publicized by Mexican mainstream media outlets TV Azteca and Televisa, but in a matter of minutes, social networks were buzzing with the news, including photos and videos recorded on cellphones.
It was a unique moment on Peña Nieto's campaign trail, where the presidential candidate for the Institutional Revolutionary Party (PRI) currently leads his rivals by a comfortable margin.  But the Ibero-American University students' dissatisfaction with Peña Nieto and the PRI, which ruled Mexico for more than 70 years until 2000, gave birth to something new: a social movement called "Yo Soy 132" ("I am 132").
Yo Soy 132's name emerged after Arturo Escobar, a spokesman and senator from Mexico's Green Party who supports the PRI candidacy, alleged that the protesters were not real students, but part of a mob hired by one of Peña Nieto's political opponents to defame him. The students responded by creating a YouTube video in which 131 students displayed their student ID cards to prove that they studied at Ibero-American. The name "I am 132" implies solidarity with the original group of students who were accused of being fakes.
According to Dr. Jaime Tamayo of the University of Guadalajara's Department of Studies on Social Movements, Yo Soy 132 has expanded from Mexico's private universities to its public universities, gaining popularity "because [students] feel offended by the PRI candidate, who leads in the opinion polls." On Tuesday, Yo Soy 132 broadcast its own presidential debate online in an attempt to circumvent Mexico's traditional TV networks. With the exception of Peña Nieto, all of Mexico's major presidential candidates participated.
"The movement has expanded to reject what the [PRI] candidate stands for," says Tamayo.  "Authoritarianism and neoliberalism one hand, but also the de facto power behind the candidate, and especially the news media, which is monopolized by two corporations."  The Guardian reported that U.S. State Department cables released by Wikileaks suggest that Peña Nieto paid for favorable TV coverage by Televisa in 2009, a claim Televisa denies.
Meanwhile, Yo Soy 132 is attempting to bridge a divide between public and private universities in Mexico, where public schools have very low tuition rates or are practically free, and private schools are often inaccessible for lower to middle-class Mexican families. The fact that the movement was born in the halls of a private institution challenges a widely-held assumption that students at private universities are the bored children of Mexico's elite who do not partake in political movements supporting democracy. Nevertheless, the movement's concept was embraced by students from both types of universities.
Yo Soy 132 has drawn comparisons to Mexico's 1968 student protests, which drew international attention when the Mexican Army massacred protesters in Tlatelolco's Plaza de las Tres Culturas on October 2, just ten days before the Summer Olympics opened in Mexico City. The official number of those killed has been estimated at anywhere from 30 to close to 300 people. Nearly 44 years later, nobody has been tried for the massacre.
Marisa Raditsch is a California native who has lived in Mexico for four years while studying International Relations with a focus on Latin American Studies at the University of Guadalajara.