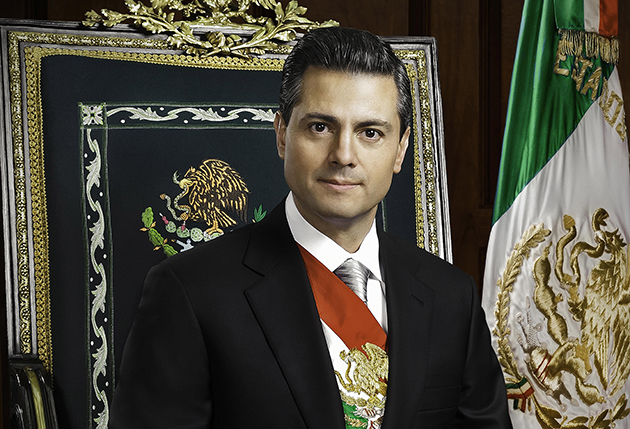 Mexican President Enrique Peña Nieto's Terrible, Horrible, No Good, Very Bad Year
In the year since TIME magazine billed him as the savior of Mexico, President Enrique Peña Nieto has watched his public image unravel.
Mexican President Enrique Peña Nieto spent this time last year atop a wave of international adulation — one that symbolically peaked when he graced the cover of Time magazine, superhero-like, as the man poised to steer the long-struggling nation in the right direction.
He had overhauled Mexico's public-education system, raised taxes on the rich and improved telecom access across Mexico — among other measures — in his first year on the job. Even junk food couldn't escape Peña Nieto's reform program.
Of greater interest to the international community, the president had opened up the country's oil reserves to foreign investors, bringing the state-owned Pemex's 76-year monopoly to an end. Foreign markets began to show confidence in the peso, and credit rating agency Moody's signaled its approval of the president's reforms by upgrading the country's rating to an A — the second Latin American country, after Chile, to ever receive one.
Once Time magazine's issue hit the newsstands, on Feb. 24, 2014, Peña Nieto had successfully shifted the international image of Mexico from a country in the grips of drug-related bloodshed to one on the cusp of economic dominance.
Things look markedly different today. Over the past several months, the Mexico narrative has been all about "graves, greed and graft," as a former U.S. Ambassador put it to the Dallas Morning News. A student massacre in September showed that high levels of corruption and violence continue to plague local communities. Recent newspaper investigations, meanwhile, have revealed a pattern of favoritism employed by the Peña Nieto administration when it comes to awarding government contracts.
The disappearance of 43 students in September from Iguala, in Guerrero State — reportedly at the hands of police officials in collusion with a local drug-trafficking gang — have brought to the surface the widespread corruption endemic to Mexico's municipal forces and unearthed a seemingly endless succession of mass graves. The news out of Iguala shocked and angered Mexicans, as did the federal government's delayed response to it: the president addressed the crisis only 10 days after the students disappeared, and initially tried to relegate responsibility for the attacks on localized corruption.
So far, nearly 100 people have been arrested in connection with the disappearances, including the former mayor and first lady of Iguala, over 20 police officers and the reported leader of the drug-gang suspected of carrying out the attack.
In December, an investigative report published by Proceso Magazine implicated federal forces in the attack and said that the police and military had tortured key witnesses in the case.
A wave of protests erupted across Mexico following the news of the students' disappearance, and for months showed no signs of abating. Many protesters called for Peña Nieto's resignation. By the second anniversary of his presidential inauguration, on Dec. 1, his approval ratings had plunged to 39 percent, according to a poll by newspaper Reforma — the lowest by a sitting president since 1996.
As protests over the disappearance and reported massacre of 43 students in Iguala roiled on, investigations conducted by Aristegui Noticias and The Wall Street Journal appeared to reveal a pattern of favoritism involving developers awarded public contracts and private real estate purchases made by the president's family and his finance minister.
In November, Aristegui Noticias revealed that developer Grupo Higa had stakes in both a lucrative government contract and a luxury mansion part-owned by the president's family. A subsidiary of Grupo Higa belonged to a Chinese-led consortium that had been awarded a $3.7 billion contract to build a high-speed rail from Mexico City. (The consortium had been the only bidder in the process.) At an earlier date, another of Grupo's subsidiaries had sold a house worth upwards of $7 million to the first lady, Angélica Rivera.
The president and first lady rejected accusations of favoritism. The first lady remarked that the mansion was being paid for by earnings from her acting career spanning 25 years. She added that she would be selling her stake in the house. The president has denied wrongdoing and responded to the public outcry by releasing his financial records, which stated his 2013 earnings as $248,000 and his ownership of nine properties. The rail line contract with the Chinese consortium was dissolved, and bids re-opened in January.
A subsequent investigation by the Wall Street Journal revealed that Finance Minister Luis Vinegary had also purchased a home from Grupo Higa. Vinegary denied that there was any conflict of interest, pointing out that he had purchased the property more than one month before his and Peña Nieto's terms began in December 2012. Vinegary was serving as finance secretary for Peña Nieto — then governor of the state of Mexico and president-elect — when he purchased the house, in October 2012, and was overseeing Peña Nieto's transition to president.
The latest conflict-of-interest scandal emerged this week when The Wall Street Journal published the findings of a second investigation, revealing that a developer in the state of Mexico who had sold Peña Nieto a luxury estate in 2005 had subsequently won a series of public contracts while Peña Nieto was governor between 2005 and 2011.
The construction firm founded by Roberto San Román Widerkehr sold a 23,000-square-foot compound in a golf resort to President Peña Nieto just weeks after he became the governor of the state of Mexico — like his uncle and godfather before him — in 2005. In the following years of Peña Nieto's governorship, San Román's firm won over $100 million in public contracts. The Wall Street Journal's investigation went on to classify the contracts the firm had previously won under Peña Nieto's predecessor as "minor."
San Román's company has been awarded at least 11 federal contracts — worth an estimated $40 million — since Peña Nieto's presidential inauguration in 2012. Of the 11 contracts uncovered by The Wall Street Journal, six of them did not involve a public bidding process. The firm had not been awarded contracts directly by the federal government prior to Peña Nieto's administration, according to The Wall Street Journal.
Midterm elections for the lower house of Congress and for governor of nine states will take place in June. Meanwhile, approval ratings for Peña Nieto's Institutional Revolutionary Party are at 23 percent, according to a poll conducted by Parametria, as reported by newspaper El Financiero. The National Action Party, by contrast, has 20 percent of public support. Protesters — including family members of the 43 disappeared students — have vowed to stage a revolt at election time.
Peña Nieto still has four years to go in his six-year mandate, but experts have voiced concerns over what he can achieve at a time when his approval ratings are so low.
"He's so weakened," Carlos Bravo, a political analyst at a Mexican think tank told the Dallas Morning News, "that you have to ask, what does he do for four years? What can he really accomplish?"
Image: Presidence of Mexico, CC BY-SA 3.0
Cleuci de Oliveira is a New York City-based journalist from Brasília, Brazil.