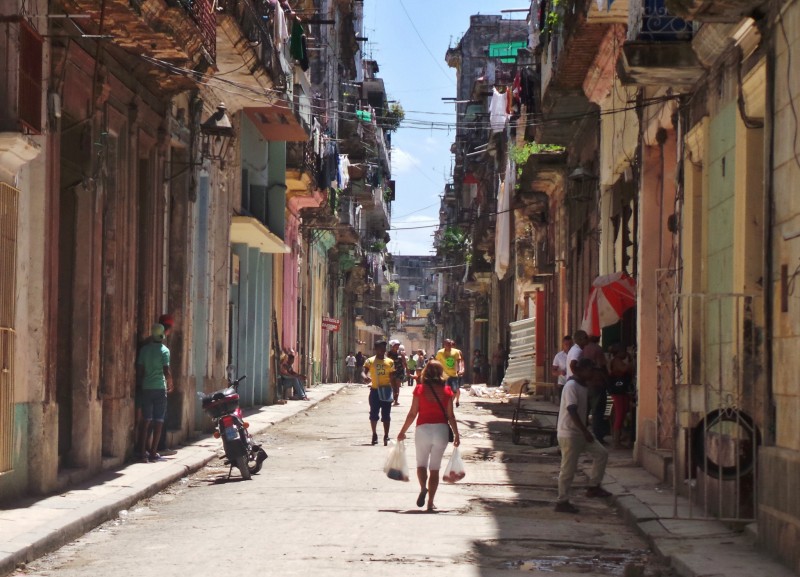 Havana, Cuba, in March 2014. Removing Cuba from a list of stats sponsoring terrorism has been a sticking point in diplomatic talks with the United States.
Gereth Williams
, CC BY 2.0)
U.S. to Take Cuba Off Terror List
April 15, 2015
By Staff
Top Story — U.S. President Barack Obama on Tuesday announced his intention to remove Cuba from the U.S. list of state sponsors of terrorism, the latest step taken toward the normalization of relations between the two countries, and one that may hasten the process of restoring full diplomatic ties.
The announcement had been anticipated since Obama's joint announcement alongside the Cuban government in December that the two countries would seek to renew contact after some 60 years of tension.
Obama said Cuba had not materially supported international terror in the past six months and had made a substantial pledge not to do so in the future, reported the BBC. The other countries on the list, maintained by the U.S. State Department, are Syria, Iran and Sudan. The economic embargo against Cuba will remain in place, as it is under the control of the U.S. Congress, rather than the Obama administration, and while Congress can act to override Obama's order taking Cuba off the terror list, Obama can also veto that act, an administration official said in a briefing.
While the announcement is likely to garner praise from Latin American leaders, it attracted criticism from members of the U.S. Republican Party, including House Speaker John Boehner, who called it "a blow to all who long for liberty and freedom."
Days before Obama's Tuesday announcement, he met in person for the first time with Cuban leader Raúl Castro, a move viewed as a major step throughout Latin America.
Just Published at the Latin America News Dispatch
Latin America New Dispatch is proud to announce the second episode of our new podcast, Radio Dispatch. You can find us in the iTunes store and on SoundCloud. For this episode, we tell the story of the sore losers of the U.S. Civil War — slave owners from the American South who decided to leave their country for Brazil, where slavery was still legal.
Headlines from the Western Hemisphere
North America
Children detained at an immigration facility in Karnes City, Texas, are depressed and struggling to cope with the regimented eating and schooling schedules imposed on them, according to a Honduran immigrant who was recently released from the detention center after being held for more than five months with her 2-year-old son.
An emergency plan has been implemented in the Mexican city of Villahermosa to provide residents with potable water after the water supply was contaminated by thieves puncturing a pipeline.
Caribbean
Cubans residing in the eastern part of the island are faring worse than their counterparts in Havana, as they are unable to profit from the tourism boom that followed the historic December announcement that the United States would be restoring ties with Cuba, reports The Associated Press.
Members of Puerto Rico's Senate Commission of Energy Affairs on Tuesday expressed their frustration over the slow pace of a multimillion-dollar project aimed at restructuring the finances of the U.S. territory's public power company in a bid to save it.
Officials with the United Nations demanded on Tuesday that the recent fatal shooting in northern Haiti of a Chilean peacekeeper wound be investigated swiftly.
Central America
Representatives of Canadian mining company Tahoe Resources Inc. have decried Guatemalan authorities' decision to detain the general manager of a silver mine owned by the company over a contamination complaint.
The vice president and foreign minister of Panama arrived in Caracas, Venezuela, on Tuesday to discuss a debt settlement worth approximately $1 billion that the Venezuelan government owes to Panamanian companies.
Andes
Colombia reworded a bill that will be used to judge the extrajudicial killings of the country's military, after critics in human rights groups argued the bill as it existed would not grant justice to the families of thousands of victims of the country's 50-year-old armed conflict.
Authorities in Peru are investigating the apparent robbery of 18 bodies from a cemetery in a town of the Lambayeque province, just one week after over a dozen bodies were stolen from a cemetery in the same province.
Ecuador's President Rafael Correa largely dismissed threatening attacks received in a text while he was touring a project zone, though phone tracing verified that the threats, which claimed Correa and others would die, were sent from nearby.
Southern Cone
Brazilian President Dilma Rouseff nominated a left-leaning law professor to the Supreme Court Tuesday as the court plans to take a lead role in ongoing investigations of the Petrobas scandal.
Brazilian police forced squatters out of a building intended to become a hotel ahead of the 2016 Olympics, in an operation that resulted in chaos as police in full riot gear charged at those attempting to leave the building voluntarily and other squatters set two fires inside.
Four Paraguayan nationals were found dead Monday in a neighborhood of Buenos Aires known as a drug hub, drawing attention to rising levels of drug violence in the country.
Subscribe to Today in Latin America by Email