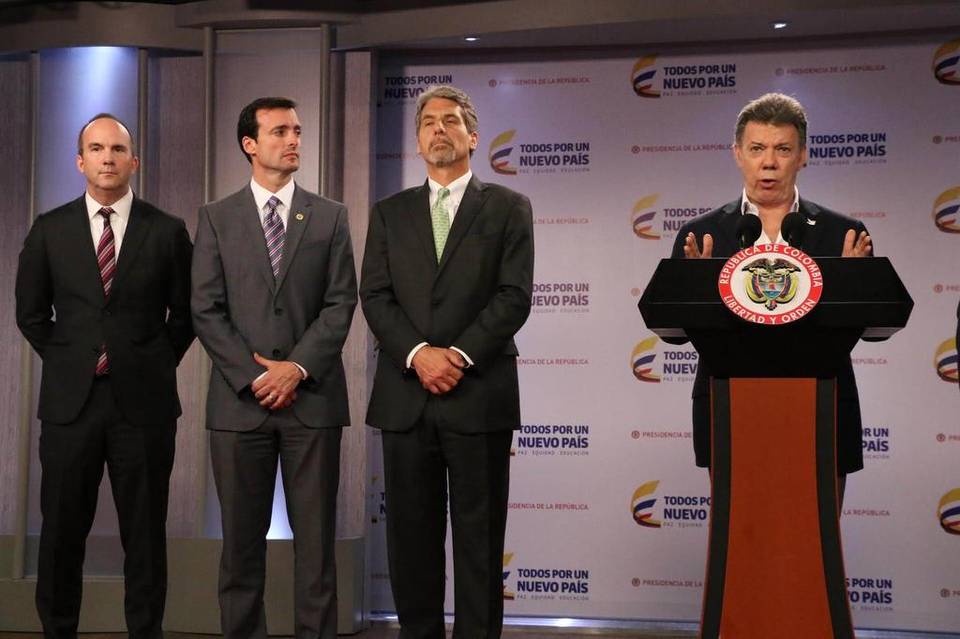 Colombian President Juan Manuel Santos, together with U.S. Attorney in Miami Wilfredo Ferrer (second from left), announces Tuesday the indictment of 17 members of the drug-trafficking organization Los Urbeños. (Image: Department of Justice)
US Unseals Indictments Against Leaders of Colombia's Most Powerful Drug Gang
June 24, 2015
By Staff
Top Story — Federal prosecutors in Miami unsealed indictments on Tuesday against 17 members of one of Colombia's biggest narcotics cartels, charging a number of important cartel leaders in an effort to improve bilateral cooperation in anti-narcotics operations.
The indictments were brought against leading members of Los Urabeños, a group that Colombia Reports has called "Colombia's most powerful neo-paramilitary drug trafficking organization." The group, also known by the authorities as Clan Úsuga, is accused of trafficking cocaine into the United States for more than a decade.
U.S. Attorney Wifredo Ferrer of Miami announced the unsealing of the indictments on Tuesday at the presidential palace in Bogotá, standing next to Colombian President Juan Manuel Santos.
Los Urabeños emerged as a powerful force in Colombia after the demobilization of the powerful paramilitary umbrella organization AUC from 2003 to 2006. Since then, the group has reportedly relied on drug trafficking and extortion for finances, taking control of territory along important drug-smuggling routes in the Caribbean and the Pacific Ocean.
Among those indicted is the group's current leader and founder, Dairo Antonio Úsuga, who has been the focus of a massive manhunt that has so far been unsuccessful. There is currently a $5 million reward for information leading to Úsuga's capture, and he faces a possible sentence of life in prison if captured and extradited to the United States.
Headlines from the Western Hemisphere
North America
Caribbean
Central America
Andes
Southern Cone