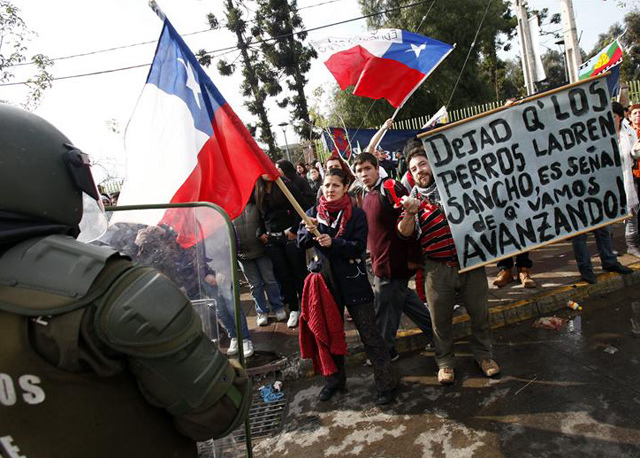 Chile: Protests Continue As Police Face Off With Demonstrators
Chile's Central Workers Union, an umbrella organization consisting of several labor unions, launched a 2-day national strike Wednesday morning, supported by protesting students and the opposition Concertación coalition.
While the organizers insist the strike and its accompanying public protests are peaceful, fringe groups collided with police on Wednesday shortly after the strike began. Protesters in the capital of Santiago stoned buses and police responded with tear gas and water cannons. At least 18 flaming barricades were set up by protesters in the capital of Santiago and clashes between police and demonstrators occurred in Valparaíso and Concepción.
"We don't want violence, our fight is not versus the police or to destroy commercial shops … our fight is to recover the right to education, on that we have been emphatic and clear," said student leader Camila Vallejo.
The protests, which began in May of this year with students asking for educational reforms, have broadened to include demands ranging from a new constitution to a revamped tax system. The 48-hour strike is the first of its kind since the since the fall of a 27-year dictatorship in 1990.
"We're all worried about the social climate," said Finance Minister Felipe Larraín, who added that the strike was illegal and said the government would not tolerate roadblocks.
Protesters also planned marches in the city's downtown area, though the government has warned demonstrators to stay out and threatened to invoke a Pinochet-era state security law against people who "incite the subversion of public order."
Chilean Police Maj. Christian Kunstmann said that one car has been set on fire and an officer was shot in the hand, but added that beyond traffic disruptions the situation was "normal." Local hospitals are advising anyone not seriously ill to stay home.
The U.S. embassy in Santiago warned U.S. citizens in Chile of continuing disturbances in Santiago and other urban centers. "U.S. citizens are urged to avoid public transportation and city centers/known demonstration areas," according to the embassy's website.
The strike marks the latest political test for center-right President Sebastian Piñera, who has seen his popularity tumble amid months-long student protests and a strike at the state copper mining enterprise CODELCO. A poll released earlier this month by Chile's Center for Political Studies found that Piñera's popularity had plummeted to just 26 percent — the lowest level of any Chilean president since the return to democracy in 1991. His coalition, the Alianza por Chile, fared even worse, with only 24 percent approval.
If there's a silver lining for Piñera, however, it's that opposition is doing even worse. The CEP poll found that just 17 percent of the Chilean public support the Concertación, a coalition of leftwing parties that held the presidency continuously from 1991 until Piñera took office in 2010.
Piñera's decline in popularity comes despite the fact that the economy is on track to grow by 6.1 percent this year. But notwithstanding Chile's "economic miracle," critics point to the country's inequality.
"It's painful to see those working so hard to paralyze Chile," Pinera said of today's national strike, according to The Buenos Aires Herald. Pinera's lack of support is also hindering him in Congress and delaying the passage of capital market reforms.
View more images from Wednesday's protests on the pages below.