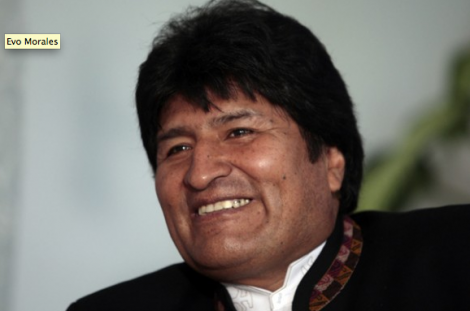 Bolivian President Evo Morales. (CubaDebate)
Bolivia's Morales Asks UNASUR To Decertify The United States
September 20, 2011
By Staff
Today in Latin America
Top Story — Bolivian President Evo Morales on Monday said that the regional South American bloc UNASUR (the Union of South American Nations) should "decertify" the United States in its counternarcotics efforts. Morales' comments come after the U.S. blacklisted Bolivia for failing to meet counterdrug obligations in 2008 and its renewed the designation last week. The move by the U.S. allows the country to implement possible sanctions, but U.S. President Barack Obama waived any penalties for Bolivia and Venezuela, which is also on the list, so the U.S. can support programs it says aim to help those nations' people. Morales, a former coca grower, said his country is doing everything it can to fight cocaine trafficking, but added that he does not believe coca should be classified as a controlled substance. "If the United States can certify or decertify, why can't UNASUR (the Union of South American Nations) decertify the United States if the origin of drug trafficking is U.S. consumption of cocaine?" Morales said.
Read More From The Washington Post.
Just Published at the Latin America News Dispatch
---
Help the Latin America News Dispatch grow by making a $15 donation!
---
Headlines from the Western Hemisphere
North America
Caribbean
Central America
Andes
Southern Cone