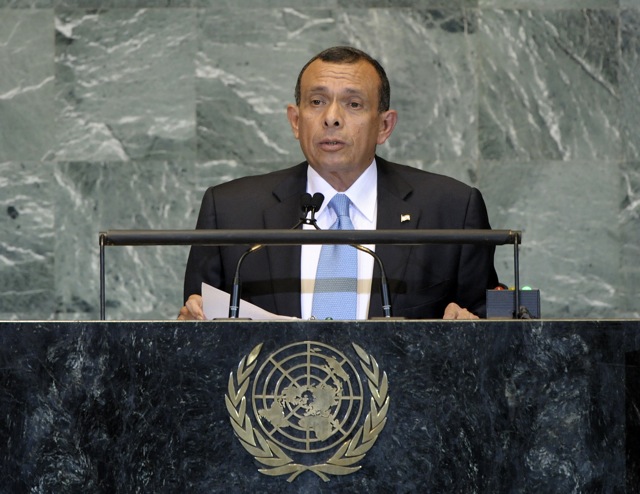 Honduras' Lobo Renews Commitment To Human Rights
September 22, 2011
By Staff
UNITED NATIONS — Honduran President Porfirio Lobo reaffirmed his country's commitment to human rights during a speech before the United Nation's General Assembly on Wednesday.
During the speech, Lobo pledged his government's support of the U.N. Declaration of Human Rights, in particular the notion that people are born free.
Lobo took office in 2010 after elections were held to replace the transitional government installed after the June 2009 coup that ousted then-President Manuel Zelaya. In his speech, Lobo admitted that the coup had worsened the human rights situation in Honduras.
"Overcoming that is one of our highest priorities," he said.
Lobo also recognized the work of the Truth and Reconciliation Commission, which his government established in an effort to avoid future abuses of human rights. The Commission delivered a report in June faulting the Honduran government for human rights violations in the seven months after the coup.
The government caused the death of 20 people, eight of whom were assassinated and 12 others were killed during street protests, the report found. "We are taking the necessary steps to implement those recommendations," Lobo said of the Commission.
Despite Lobo's reassurances that the human rights conditions in the country are improving, violent crime rates still continue to soar and Honduras remains a dangerous place especially for journalists, members of the LGBT community and supporters of opposition political parties.
Lobo also stressed during his speech that Honduras was working to become a more accepting multi-ethnic nation, saying that his country has established a ministry to address indigenous people's issues. "One of my government's aspirations is to complete our constitutional reform to define Honduras as a mutli-ethnic nation.," he said.
Echoing Mexican President Felipe Calderón's earlier address, Lobo noted that Honduras and Central America's biggest problem was a lack of security in the region. According to a recent U.N. analysis, Central America is the most violent area in the world and contains the most organized crime groups, Lobo said.
Besides large-scale street gangs that operate in many countries throughout the region, organized crime groups from Colombia and Mexico have infiltrated the region in an effort to use Central America's porous borders as transit routes for the illicit substances. In Guatemala, for instance, Mexico's violent Zetas Cartel has virtually taken over the northern part of the country and authorities in Panama earlier this month arrested 80 members of a drug trafficking ring with ties to Colombia's FARC guerrilla group.
In Honduras earlier this year authorities discovered a cocaine lab allegedly operated by Mexican drug cartels and in August the U.S. Coast Guard announced the seizure of a drug submarine carrying 7.5 tons of cocaine of the coast of Honduras.
"Violence and transnational organized crime," Lobo said, specifically referencing drug trafficking and human smuggling. "Is a serious threat to our ability to develop our well-being."
"Many of these crimes imperil our society," he added. "It destroys our young people and community life."
Andrew O'Reilly and Roque Planas contributed reporting from the United Nations.