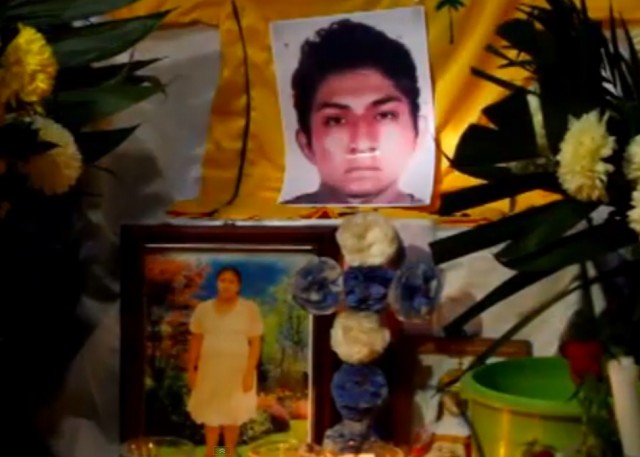 Altar for Alexander Mora at his father's house in El Pericon, Mexico.
Mexico Identifies Remains of One Missing Student
December 8, 2014
By Staff
Mexico's Attorney General announced on Sunday that the remains of one student among the 43 missing since September have been identified. The positive DNA identification of Alexander Mora, 19, made from a bone fragment found in a dump site in Cocula, Guerrero state, is consistent with the authorities' account that the students were detained by municipal police and handed over to a local drug gang before being executed.
Alexander Mora's father, Ezequiel, was informed of the positive identification late Friday night. He had been maintaining a vigil along with the family members of the other missing students at the Rural Normal School in Ayotzinapa, where his son was studying to become a teacher, when he was pulled aside by lawyers and forensic experts with the news.
"They punched me in the heart. I wanted to scream," said the elder Mora to the New York Times on Sunday.
The news of a positive identification came as a blow to the families of the missing students, whose deep mistrust of the authorities' investigation gave them hope that their loved ones would still be found alive.
In his announcement on Sunday, the attorney general said that 80 people have been arrested in connection with the students' disappearance, 44 of them police officers. The former mayor and first lady of Iguala were arrested in November for allegedly ordering the attack on the students.
President Enrique Peña Nieto expressed his condolences to the Mora family on Sunday. The unfolding case of the 43 students, missing since Sept. 26, has sent Peña Nieto's approval ratings plunging to their lowest point since he took office two years ago. The case has exposed widespread corruption among local authorities in Guerrero, a trend that Peña Nieto hopes to reverse with recently-announced policing reforms, which would replace municipal officers with state and federal authorities.
North America
Caribbean
Central America
Andes
Southern Cone
Image: YouTube