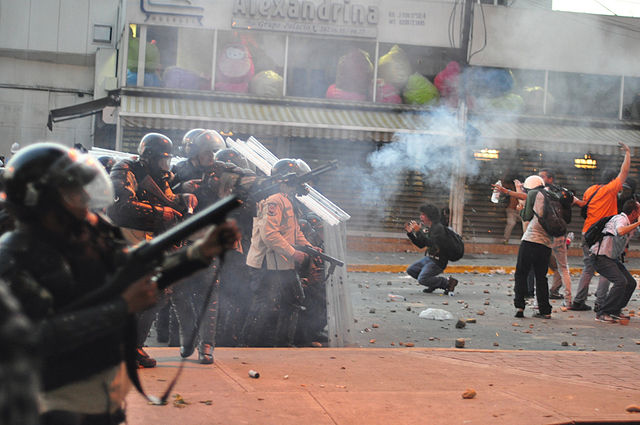 Obama Signs Bill Authorizing Sanctions Against Venezuelan Officials
December 19, 2014
By Staff
The Latin America News Dispatch will take a short break from publishing our daily newsletter Today in Latin America to celebrate the holidays.
Felices Fiestas from the Latin America News Dispatch staff.
Top Story — U.S. President Barack Obama on Thursday signed a law placing sanctions on "persons responsible for violations of human rights in Venezuela," the White House press secretary said in a statement.
The sanctions bill will freeze the U.S. assets of, and strip visas from, officials responsible for committing "significant acts of violence or serious human rights abuses" against participants in anti-government protests that have sporadically swept the country since this spring. The law would also target officials responsible for arresting or prosecuting those who either protested or spoke out against the government.
Ahead of the law's signing, Venezuelan President Nicolás Maduro on Dec. 9 called the measures "insolent," asking, "Who is the U.S. Senate to sanction the homeland of Bolívar?"
Maduro's administration has targeted several opposition leaders in the wake of the protests. Politician Leopoldo López was arrested in February for his alleged role in inciting the violence that broke out after protests began earlier that month. Another major opposition figure, María Corina Machado, was indicted Dec. 3, accused of conspiring to kill Maduro.
The sanctions had been anticipated since November, when prospects for the law brightened following a Republican victory in the U.S. Senate. The signing of the bill, however, came in the aftermath of a major surprise: the announcement that the U.S. and Cuba, Venezuela's closest ally, would seek to normalize relations.
Cuba's decision to seek a rapprochement with the U.S. may have been influenced by a desire to pivot away from Venezuela, an ally that may look increasingly unreliable given its worsening economy and declining oil aid to partners, argued Reuters' Andes bureau chief Andrew Cawthorne.
"It looks like Raul is cheating on Nicolas!" Venezuelan opposition leader Henrique Capriles told Reuters. "All of the Americas going in one direction, and Nicolas doesn't know where he's heading."
Headlines from the Western Hemisphere
North America
Caribbean
Central America
Andes
Southern Cone
Image: Andresazp, CC BY-SA 3.0
Subscribe to Today in Latin America by Email