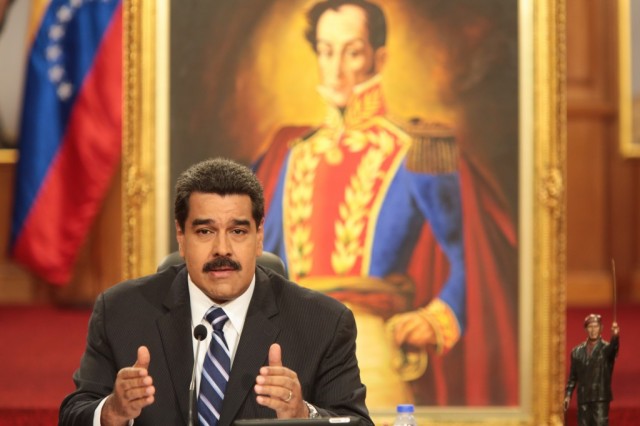 Venezuelan President to Visit China and OPEC Countries as Economy Worsens
January 5, 2015
By Staff
Top Story — Venezuelan President Nicolás Maduro will embark on a week-long tour of China and several OPEC countries in a move to reverse Venezuela's tumbling economy, he announced during a televised broadcast on Sunday.
"I'm leaving today for an international tour…a very important tour to take on new projects, given the circumstances of falling income that our country faces," Maduro said.
China, the first stop in Maduro's itinerary, is currently Venezuela's main foreign lender, the two countries having previously struck a deal whereby China loans Venezuela cash and is owed future oil deliveries.
Maduro did not specify which OPEC nations he plans to visit during the trip. OPEC's decision in November not to rein in crude production sent global oil prices tumbling. The price drop hit Venezuela's economy particularly hard, as oil makes up 95 percent of the South American country's export earnings. Despite being a member of the oil-production cartel, Venezuela did not back OPEC's November decision.
Maduro also announced on Sunday that he would consider releasing opposition leader Leopoldo López — jailed since February for his role in anti-government demonstrations — in exchange for U.S. prisoner Oscar López Rivera, a Puerto Rican nationalist charged with a number of crimes for his participation in the paramilitary group FALN. Maduro's words make clear that such a prisoner-exchange would not grant Leopoldo López the ability to seek public office in Venezuela, but would rather see him exiled to the United States.
Headlines from the Western Hemisphere
North America
U.S. President Barack Obama's decision to restore diplomatic ties with Cuba will face strong challenges when Congress reconvenes Tuesday, as opponents of the move have vowed to delay any progress on key issues such as approving an ambassador to the island.
Mexican officials arrested 10 municipal police officers in connection with the September disappearance of 43 students from the state of Guerrero, bringing the total number of police officers arrested in the case to 58 as the investigation continues.
The amount of methamphetamine seized on the US-Mexico border increased sharply in fiscal year 2014, signaling a major production shift from the U.S. to Mexico, where the DEA estimates that 90 percent of meth consumed in the U.S. is now produced following a U.S. crackdown on precursor chemicals needed to make the drug.
Caribbean
Although a recent spike in Cuban migration to the U.S. has received widespread media attention, the trend applies to the Caribbean as a whole. During fiscal year 2014, U.S. authorities encountered around 5,500 Haitians, 4,000 Cubans and hundreds of other Caribbean migrants attempting to make the journey by sea — a dramatic increase from previous years.
Central America
The New Yorker's Jon Lee Anderson gives his impression of the groundbreaking ceremony late last month on Nicaragua's canal construction, which he called "the world's largest megaproject."
Homicides went up 57 percent in El Salvador in 2014, an increase authorities blame on the fallout from the dissolution of a truce between the country's two largest gangs.
A massive sinkhole off the coast of Belize holds evidence of massive droughts and violent cyclones, which may explain the demise of the Maya civilization, according to new research by U.S. scientists.
Andes
One person was injured on Sunday when a fireworks factory exploded outside of Bogotá, Colombia, causing a huge traffic jam as thousands returned to the capital after the Christmas and New Year holidays.
Bolivian animal rights activists allege that Satanists are sacrificing animals in El Alto, the sister city to the capital La Paz, according to a detailed report in the La Razón newspaper.
Southern Cone
A man living in Argentina for nearly a decade after killing his wife and fleeing the U.S. may face extradition back to his home country, following a ruling by Argentina's top court.
More than 500 members of the 45,000-member Guaraní indigenous tribe living in the western Brazilian state of Mato Grosso do Sul have committed suicide since 2004, an epidemic attributed in part to the stresses of encroachment by outside developers.
The family of a Paraguayan teenager who was freed by guerrillas on Christmas day is asking for donations to help cover the cost of his $500,000 ransom, which the family — Brazilian immigrants to Paraguay — paid in April.
Image: Venezuelan government, public domain

Subscribe to Today in Latin America by Email