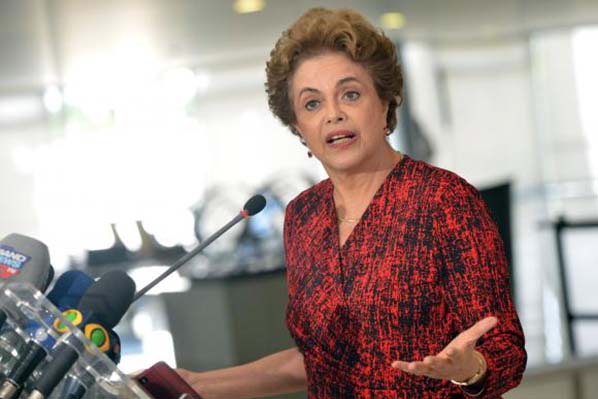 Impeachment Annulment Sends Brazil into a Tailspin
BRASÍLIA — The decision by Brazil's newly minted lower house speaker to annul — and then un-anul — impeachment proceedings against President Rousseff threw the country into a fresh round of turmoil on Monday, just two days before the Senate is expected to vote in favor of removing Rousseff from office and putting her on trial.
Congressional leader Waldir Maranhão had been on the job for four days when he annulled his colleagues' April 17 vote to impeach Rousseff. Basing his decision on a motion brought forth by the attorney general's office, Maranhão determined that Congress breached ballot rules and allowed for irregularities, like party leaders pressuring members to vote a specific way.
Shortly before midnight, Maranhão revoked his original request for an annulment.
Maranhão, a little-known congressman, became lower house president after then-leader Eduardo Cunha, one of Brazil's most controversial political figures, was suspended from office on Thursday, over his alleged involvement in a mammoth corruption scheme at Brazilian oil giant Petrobras.
Cunha, an evangelical Christian who rose to fame as the host of a religious radio show, was considered Rousseff's arch-nemesis before his downfall, and the chief architect of the effort to impeach her. He faces a litany of charges, among them money laundering, witness tampering and obstruction of justice. But not everyone was happy to see him go, especially after his efforts to take the president down were briefly undone by his successor.
"Cunha was the victim of a coup," anti-Rousseff protester Rute Maia, 55, said on Monday, echoing the term Rousseff has used to describe her own impeachment battle. "He is the only one who knows what needs to get done in Congress."
"He is very intelligent," Maia's colleague Assunção Soares, 50, said about Cunha, long considered Brazil's answer to Frank Underwood. "He's not the only one in power facing all these charges, so why just him?"
Maranhão, the new house speaker, also faces charges in the Petrobras probe, as does Senate leader Renan Calheiros, who will preside over Rousseff's upcoming impeachment decision.
By Monday afternoon, Calheiros had rejected Maranhão's annulment. He said that the vote in the Senate would proceed as scheduled on Wednesday, and that Maranhão had "played a joke on democracy." (The congressional house speaker hit back, saying that "we have not, and never will, toy with democracy.")
By the day's end, Maranhão had withdrawn the annulment request, but not before throwing Brazil's financial markets into chaos, as Bloomberg reported.
Rousseff is accused of partaking in an illegal fiscal maneuver known as backpedalling: borrowing money from state banks to cover gaping holes in Brazil's budget. By doing so, her opponents argue, Rousseff made the country's economic outlook appear healthier than it was at the politically opportune moment in which she ran for re-election.
Over two thirds of members of Congress voted to impeach Rousseff on April 17, ensuring that the proceedings moved up to the Senate. Rousseff will be removed from power should the Senate decide, by a simple majority vote, to side with Congress. Vice President Michel Temer then becomes interim president while Rousseff goes on trial.
News of the annulment, although short-lived, delivered a jolt to Rousseff's embattled presidency and galvanized her supporters. In a cinematic coincidence, Rousseff learned of Maranhão's decision that morning just as hundreds of pro-government supporters staged a demonstration at her official workplace, the Planalto Palace, during a public ceremony. She appeared just as surprised as the rest of the country.
"I did not yet hear about this through official means, and I don't know of its consequences," Rousseff told her cheering supporters. "Please be cautious. We are living through a moment of trickery and cunning."
The demonstrators had decided, during a summit meeting the night before, to occupy Planalto Palace and not leave until the effort to impeach Rousseff was over.
"I brought my toothbrush, of course," Fátima Duarte, 62, said of her plan to spend at least two nights inside the building. "I also brought wet wipes, underwear and comfortable clothes."

Rousseff's supporters occupied Planalto Palace, the president's official workplace (Image: Cleuci de Oliveira)
By 5 p.m., however, the occupiers agreed to exit the building, following negotiations between Workers' Party Congressman Paulo Pimenta, who spearheaded the demonstration, and Workers' Party Minister Ricardo Berzoini.
"This morning's unexpected announcement [regarding the annulment of Rousseff's impeachment] messed up the schedule we had drafted for the occupation," Pimenta told LAND. He urged protesters to conserve their energies for the coming days.
The government supporters left Rousseff's official workplace peacefully, but were met outside by an energetic pro-impeachment crowd. The two sides spent hours taunting each other in front of the Senate, just across the street from Planalto Palace.
"Do you see any leadership? Have you seen what they've done to the economy?" anti-Rousseff protester José Augusto, 59, said. "I spent 20 years voting for the Workers' Party. I voted for [former president] Lula many times before he finally won. Not anymore."
Cleuci de Oliveira is a New York City-based journalist from Brasília, Brazil.